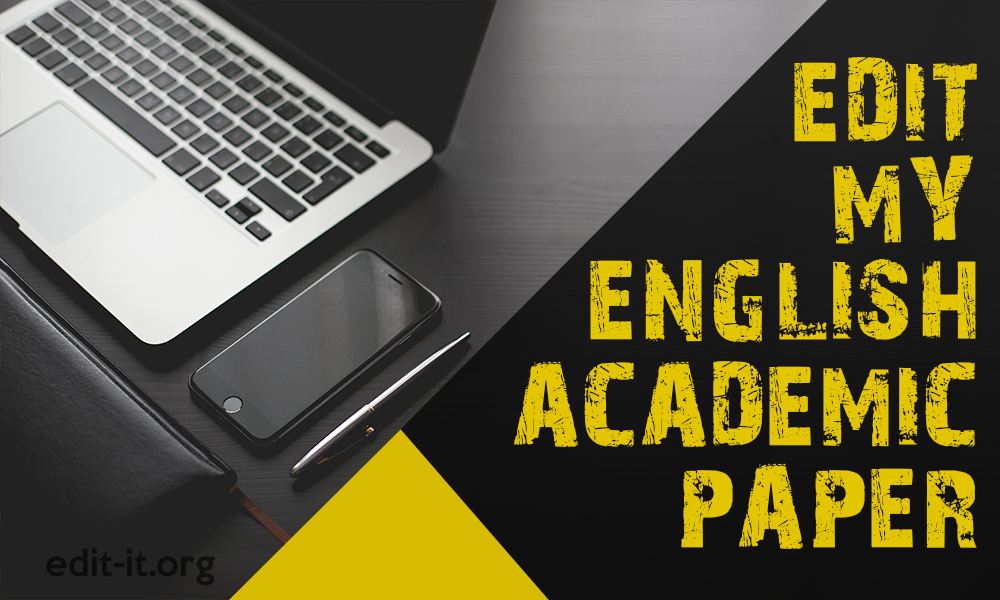 It is only half-way to write academic paper. Every student wants to write the best paper. However, during the writing of papers undergraduates think only about the certain capacity of words or they just want to perform the task as quicker as possible. Typical academic paper should be written following special requirements. Requirements are different on their basis. Some requirements concern format of the paper, while other imply right structure and logical sequence of the paper. Students are disappointed, while they get bad mark for their essay, coursework or any other assignment. It seems that everything is fine. Student managed to reveal the topic of his paper. The main question is: How did student submit information in his paper? That's why, English language editing exists. The work of qualitative editor is to "renew" the text of the paper, deleting unnecessary information and highlighting the strong sides of the text. Our team will describe our main principles of your papers' editing in this essay. We offer you various services, beginning from writing of assignments and finishing with grading of them.
The Essence Of Editing
Dear student, you should know that editor achieves the accuracy of text's assessment only during in-depth reading of it. Traditional method of editing, based on the experience of copyreaders' academic writing, recommends redactor to do it.  Editing of the text's composition, mainly typical weaknesses of it is the main task for editor. Editor usually faces with such typical mistakes of academic writing's composition:
Breakaway from the topic;
Poorly chosen principle of parts' location;
Unjustified breach of the recital's sequence;
Disproportion of the parts;
Unsuccessful compositional techniques;
Fragility of connections between the parts;
Abstrusity of compositional frames (a bad header, introduction or conclusion).
Four types of correction distinguish in the method of editing: correction-subtraction, correction-cutting, correction-processing and correction-alteration.
The aim of editorial correction-subtraction is reading the text "throughout". Reader should notice its semantic, compositional and stylistic faults and also pay attention to the spelling of the geographical names, names and surnames. Copyreader should also pay attention to the accuracy of quotations, figures and dates and check the comparability of measurement's units. His responsibilities also include verification of headers' compliance to the texts.
The purpose of correction-cutting is in reducing the amount of the text and bringing it to a predetermined size. Typically, cuttings as a special kind of correction are caused by the need to make tactical changes and different technical considerations. Correction-cutting unlike correction-subtraction has direct intervention into the text. Therefore editor should take into account of its semantic and syntactic structure.
Correction-processing is the most common type of correction. Its task is preparing of the final version of the text, which fully takes into account the results of editorial analysis for the publication. The goal of processing is literary finishing of the text and clarification of author's ideas.
The purpose of correction-alteration is in creating of new version of the text on the basis of material, submitted by the author. Strictly basing on clear facts, editor invests the idea of author into the literary form. By the way, you can order online revision of papers on our site. Changing the structure of academic paper's genre and processing of the text in case of its change of objective purpose also is materialized by the correction-alteration. You can learn here how to find the good dissertation service: http://edit-it.org/blog/tips-for-students-how-to-choose-a-good-dissertation-service.
Also in this section:
How Can We Do Our Job of Editing For You?
Edit my English paper, please. This is the popular request of our customers at our site. First, we want to say that our staff has the best editors.  You can find all useful information about us on our site. Our copyreaders wear three essential qualities for excellent editing.
Each of our editors has perfect knowledge of English language. English is tricky language and if person does not know it, editing will be impossible to do. Our workers have obtained training at editing and passed various exams in English and translation. They can easily provide you academic editing services.
The other two qualities are concentration and attention to the details. Our editors perform their job with high level of concentration and do not digress on external factors. Multitasking is also a priority in the work for them. They are consistent in correction of all potential mistakes.
Further, we want to tell about our main principles of editing of your papers. These principles are the main condition of qualitative editing of your any paper. You can do them on your own if you have time. Our team can offer you reliable paper editing.
1. We shorten your paragraphs and sentences if it is required. Long sentences and paragraphs make bad impression on reader. Your text will be boring and difficult to read in such case. What do we offer? Our team usually cuts the amount of sentences in paragraphs. The best option is 4 sentences in paragraph. Also, we cut the clutter in your text. Clutter is common mistake in every academic paper of students. Our English editor expresses the thesis using as few words as possible.
2. Our team pays attention to the synonyms in your paper. Synonyms are difficult part of English language. We attentively consider what synonym will be better in sentence. If it is possible, our copyreaders use simple words instead complicated ones.
3. Team of edit-it.org works with your thesis, too. Students very often write one thesis under different aspects. Thus, they do not reveal the topic of the paper in full size. We delete duplicate ideas and highlight strong sides of your thesis and arguments.
4. Usage of our own forces during editing is priory for us. Our members of edit-it.org seldom use the help of programs preferring own mind. Machine can do mistakes. Thus, we should rely only on ourselves.
5. Implementation of bibliography and right formatting of quotations also is part of our duties. You can be sure that our editors have experience in making of bibliography and we can know how to work with quotations of other authors.
6. We are in course of various styles of paper's format. Each of our editors is perfect user of computer. Thus, our team does not know the problem of line spacings and indents.
7. Our staff simultaneously pays attention to all details of editing and do not waste so much time. You can be sure, that your paper will become masterpiece after our editorial "polish" and in your deadline. You can find here all useful information about academic editor: http://edit-it.org/blog/academic-editor-what-you-really-need-to-know.
Popular posts: