Academic Editor: What You Really Need to Know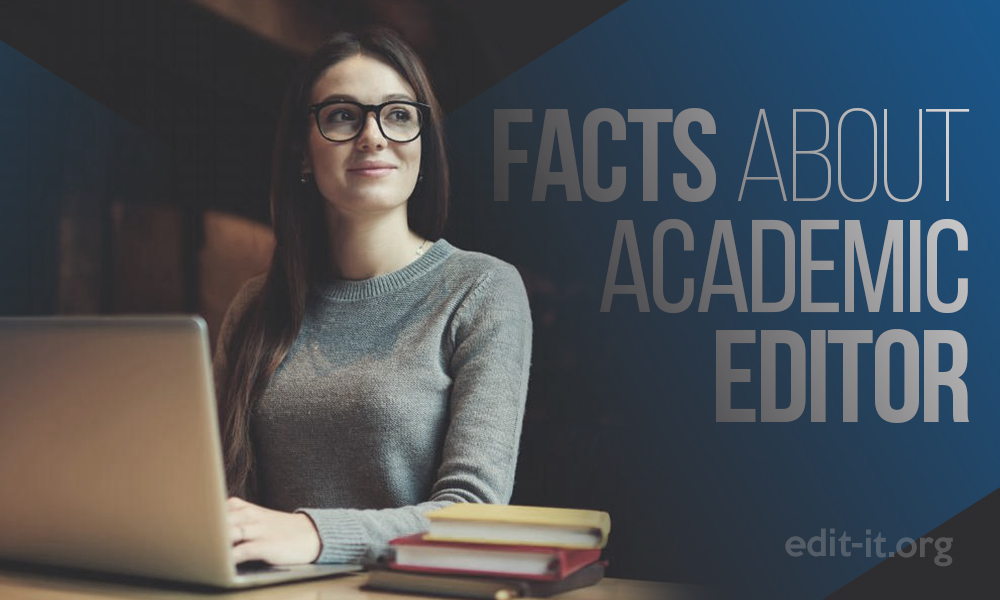 Academic papers are probably in greater need of proper editing and proofreading than any other kind of writing. There are different ways to edit an academic paper. Still, not many students cope with this task successfully. Many of them fail to do the job to the best of their abilities. If this is your case, we recommend you to use academic editing services for assistance. However, before we discuss the benefits of such services, let us analyze what the tasks of a professional academic editor are. Once you realize how hard it is to edit a paper thoroughly and leave no errors in your writing, you will probably treat the opportunities provided by editing services more seriously. In fact, for some students, online editing services are the only way to succeed in one's educational career. Let us analyze the functions performed by professional and well-trained editors in order to understand what awaits every student who is faced with the task of editing an academic paper.
Many of us consider that the correct punctuation does not play a significant role if you are writing an academic paper. Most students pay too much attention to the content of their writing instead of checking the text for punctuation errors. We think that the knowledge of correct punctuation should be left behind due to the fact that there are many other things to think about while editing a paper. However, the truth is that if you are writing an academic paper, punctuation mistakes are the easiest to make. The task of an academic editor in this case would be to ensure that all the brackets are closed and all the commas are put in the right places. If you are writing from scratch, you need to make sure that the pauses are dealt with effectively before you put any kind of punctuation marks. You need to know the difference between a semi-colon and a comma. Besides, if you deal with academic writing, the stylized punctuation should be avoided at all costs due to the fact that academic papers are meant to follow stricter rules. Question marks therefore should not be mixed with the marks of exclamation to make a more pronounced emphasis. This is not allowed in the academic writing and should be avoided by students by all means.
As for the spelling errors, they often make one's academic work seem too childish. Such mistakes generally divert the audience from reading the text to the end. Instead, it predisposes the audience towards thinking that the writer had no idea of what to write about even if the ideas in the text are expressed solidly. In this case, students can use the spell check, but such assisting tools should not be trusted entirely. This is because some errors are still not recognized by such kind of tools while professional editors will see the errors immediately. Therefore, it is more reasonable to entrust your work to a well-trained and competent editor.
Another area that needs checking is the sentence structure. This area is usually worked out with much ease even by an ordinary writer. In this case, all sentences should be checked to make sure that they follow one after another smoothly and the ideas are clearly expressed in each of them. Still, if you don't trust your own abilities as an editor, you can always use professional editing services for assistance. This will ensure that your work is absolutely error-free.
The last but not the least, if you are an international student, you need to make sure that you have enough knowledge of English to edit the paper thoroughly and leave no mistakes unattended. If you fall into the category of non-native speakers who have a profound knowledge of English, then you will have no problems editing your paper. If not, we recommend you to use help of professional editors who will guarantee that your essay, term paper or any other kind of academic writing follow all educational standards.
Some students think that it is hard to find a good editing service due to the fact that some editors working for editing companies have worse levels of English than your own. There are many scam companies online and one needs to take caution so as not to become a victim of such services. However, you don't have to look for any company, if you are reading this article, because all you have to do is to ask our service for help. We guarantee that our editors will make sure your paper is totally ready for submission and follows all the academic requirements. Let us further analyze what our service can provide to students who need help with academic editing.
Here is a list of guarantees from our service:
Round-the-clock customer support without weekends or days-off is a top priority of our service. We guarantee that you get 24/7 assistance from our professionals.
Top confidentiality is another benefit offered by our company. We are making sure that your private information does not get disclosed to any undesirable individuals.
Premium quality of every academic paper delivered by our editors. Our professionals are trying hard to polish every paper to perfection and reach the highest level of quality. All of our editors hold high academic degrees for you to be sure that we are the most reliable and competent service on the web.
Plagiarism is avoided by our editors at all costs. Our professionals know the difference between simple rephrasing or copying and quality editing. Therefore, we guarantee that the ordered papers are entirely free from plagiarism.
Additional options, e.g. free revision of previously ordered papers are another advantage guaranteed by our company. If you are not completely satisfied with the provided paper, we can revise it free of charge without additional costs. We also provide a full refund opportunity to those who are disappointed with the services provided by our company. You don't lose anything at all!
Now you can see how many opportunities are given by our company. If you liked the above essay, don't hesitate to make an order on edit-it.org. We guarantee that we will help you reach perfection in your academic writing.