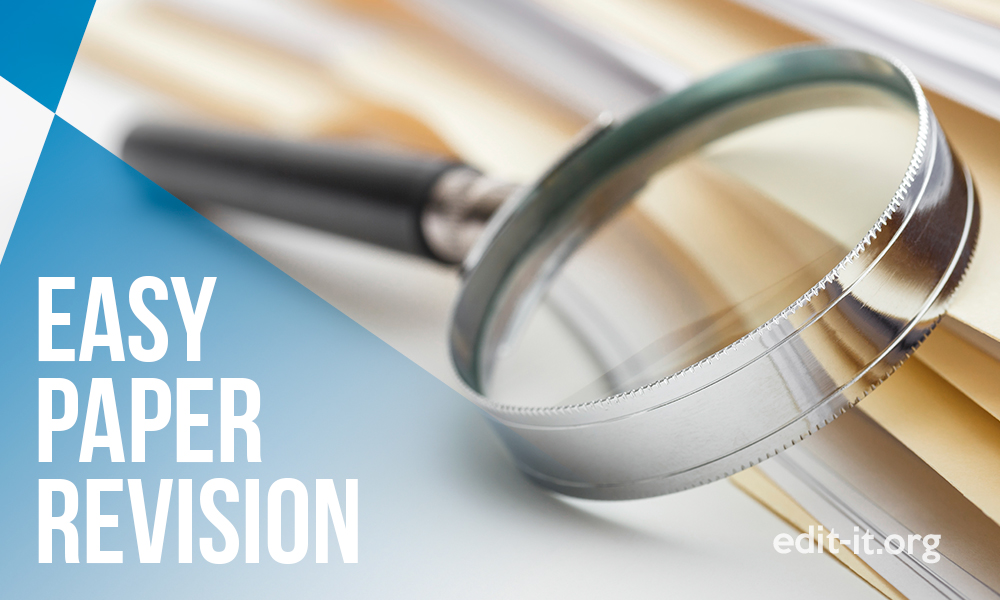 It goes without saying that any job done always requires thorough revision in order to make sure that everything is done correct and free of any unfortunate mistakes. Such statement is particularly true for academic papers and official documents, where the accidental error may emerge not only in spelling, grammar or punctuation, but also creep into the semantic content, logical relations between the paragraphs and general structure of the text in the whole. This is especially important, as long as despite the profound research on the topic, the smallest spelling or grammar mistake may send your paper into the 'rejected' pile. Therefore, many students and the members of academic community in general perfectly realize the necessity for fine-grained expert revision of their writings before submission. Although, searching for qualified native-speaker professional with perfect academic background ready to provide high-quality revision and editing service at the affordable price often seems barely less complicated than revising a paper though own efforts. Well, if when reading those lines above, you have thought "For heaven's sake! That's exactly about me", than we have something to comfort you! The easy revision service offered by our professional online editing company is just what the doctor ordered in order to make the revision of your papers as easy as ABC.   
At our website you will be able to find a lot of useful and interesting information on editing and proofreading, including some expert tips and free samples, as well as to order professional academic paper, official document or even the whole website revision by one of the most reliable editing, proofreading and revision companies on the market. We offer highly convenient and easy to use online revision service that ensures confidentiality of our customers regarding the content of paper, as well as personal data of its author. In order to start working with us, just contact our support team via online chat window or send the details of your order to the e-mail address displayed on the home page.   
Patient Treatment Program or Backstage of Our Editing Ward
Many customers often ask us about how exactly we treat the papers admitted to our emergency editing room. So, there is our basic six-step treatment program for every 'patient' entrusted into caring hands of our editors.
Expert paper revision consists of the following:
Proofreading. At the first stage, the editor proofreads the paper, which means detecting and fixing the grammar, spelling and punctuation mistakes. This stage is especially important, as long as grammar and spelling often become the stumbling stone for many academic writings, especially prepared by non-native English speakers. The most common mistakes fixed at this stage are misspelled or misprinted words and subject-verb disagreement. By the end of this stage, you can be perfectly sure that the paper will comply with the highest standards of English.
Revision of the paper content. At this stage our editors check if the paper fulfills the general requirements of academic assignment. We also check the claims and statements for being correct, verify the academic sources used, confirm the adequacy of arguments given in support of the point of view expressed,  et cetera.     
Revision of the paper structure. Here our editors check the overall structure of your paper, as well as the structure of separate paragraphs, sentences and the logical relations between them. We start with general structure of the text to make sure that your paper has suitable conclusion and introduction and the paragraphs are provided in the adequate logical sequence. Than we take a closer look at every paragraph and check if it contains a clear topic statement that sticks to the main idea of the paper. We also remove all the extraneous and irrelevant sentences in every paragraph. This done, we narrow down our sight to the structure of every sentence. At this sub-stage we get rid of all fragment sentences that may negatively affect the quality of your paper and verify all logical connections and relations within the sentence.         
Style revision. At the fourth stage, our editors pay attention to the style the paper is written in. We check it for using the appropriate tone (formal, informal, persuasive, descriptive, argumentative, et cetera), fix the excessive usage of passive voice and verify other style-related issues.      
Citations and formatting. Appropriate citation of quotes and general format of paper are another important component of successful writing. At the fifth stage, we verify the citation format and check the compliance with popular format requirements, such as APA or MLA. 
Revision against checklist of requirements. At the sixth final stage, we verify compliance with specific academic requirements, such as number of words, et cetera.
All these six stages are mandatory treatment program for every paper submitted for revision by our editors. We employ only high-qualified professionals with flawless academic background, who are English native-speakers. Moreover, most of our editors graduated with degree in English language and literature, so there is absolutely no chance that we miss even the smallest mistake and fail our customer.      
In God We Trust, the Rest We Check
Finding the fine-quality paper editing and revision service sometimes may be even more complicated than finding an essay or thesis writing company. However, if you are reading these lines, you've probably found what you have been looking for. Our expert team will be pleased to polish your paper into a real flawless academic masterpiece worth of the highest grade possible. The motto of our editors is "In God we trust, the rest we check", so by ordering our service, you can be sure that we will catch out and fix every single mistake you made. Let us check your paper, and enjoy the perfect quality we offer. The more detailed information about our services and pricing policy you may find in the corresponding sections of our website.