Online Essay Revision: The Best Way to Reach Perfection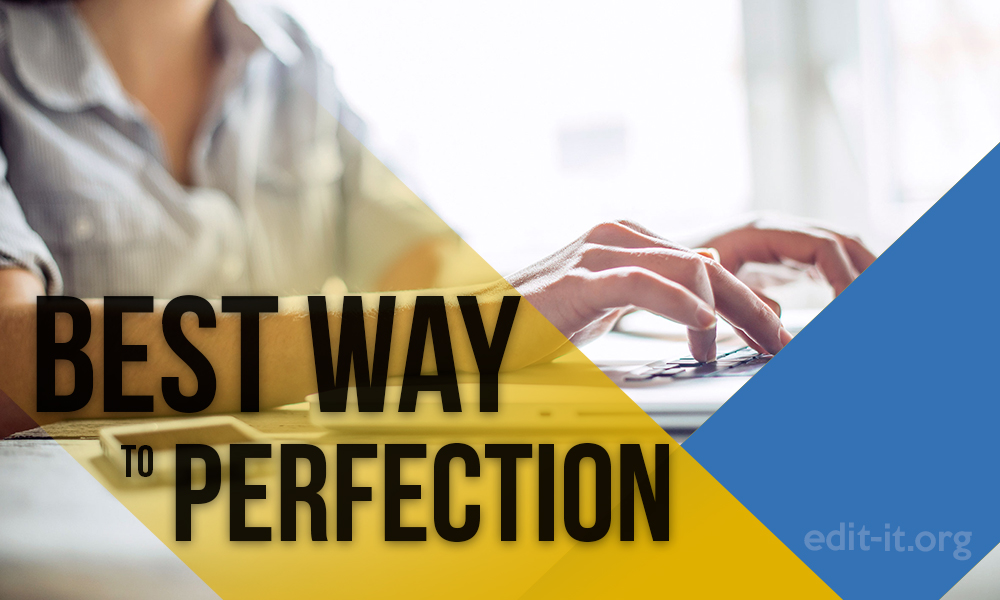 Revision of one's writing is a complex process of analyzing, reviewing, proofreading and editing a piece of writing aimed at improving its quality and style. The skill of revising a written work is very important for writers, students and everyone who wants to produce a top-quality piece of writing. No matter whether you are writing a paper for school, a college report or a journal article, it is important to learn how to improve the clarity, accuracy and organization of the written paper. These are necessary steps that one needs to go through in order to produce a paper with effective content. Read the following article to find out more about online essay revision and the steps of revising an academic paper.
If you are tired of revising your essays, you have a great opportunity to revise essay online with the help of special services that provide qualified help to college and university students. This is the best way to achieve perfection in your writing and improve the quality of the essay's content. Let us analyze what steps are undertaken by professionals in order to achieve high quality content of one's writing. Here are the stages of essay revision:
Professionals working in the sphere of essay revision are perfectly aware of the fact that you need to allow some period of time between the actual writing and the process of revising an essay. If you set aside the written piece of work for several hours or even several days, you will have a chance to see it from another angle and detect all the mistakes that you might have made.
An expert in essay revision would start the process of revising an academic paper from reviewing the introduction. In fact, it is very important to make an effective introduction to the essay for it to be clear and easy for comprehension. Besides, an introduction serves the function of a clear indication of what the audience might expect from getting acquainted with the rest of the essay. The task of an essay reviser is to evaluate the clarity of the introduction and ensure that the key arguments or the main issues reflected in the paper are stated with much accuracy. If the writer has used some terms or notions that the audience might not understand, the task of an essay reviser would be to clarify the context and meaning of some words or phrases at the beginning of one's piece of writing.
Another function of an expert in essay revision is to analyze the structure of the author's paper. A well-structured essay or any other academic paper is supposed to lead the audience through a good-reasoned way of thinking. The task of an essay reviser in this case is to decide whether the given work is structured according to the academic requirements. For example, some essays need to be structured logically so that every paragraph of the paper follows a logical order. Another example is a thesis paper where the most important argument needs to be given at the beginning of the paper. This way, the paper will have a clear and appropriate structure and this will ensure a positive evaluation from the student's instructor.
Another important step of the essay revision is to remove the repetitions and clarify the most significant arguments. If some idea can be expressed only in one word or one sentence instead of two, it is better to use a more concise version. The task of an editor is to look for the repetitive ideas to make the paper clearer and easier to understand. An editor needs to remove all repetitive thoughts, arguments and ideas. If a student has said something once, his/her idea does not need to be repeated. Besides, the consecutive sentences should not start with the same words. The word repetition should be revised within the boundaries of only one sentence. Some words should be replaced using the alternatives in order to avoid repetition. It is often hard for students to find the right words, and therefore it is advisable to use help of a professional essay editor.
It is also important to create appropriate transitions between the paragraphs and sentences within the text. This will ensure that your essay is easy to understand for the readers. As for the conclusion, it needs to be concise, clear and well-organized. Sometimes a good conclusion can make all the difference. Therefore, the task of an essay editor would be to revise not only the paper on the whole, but conclusion as well.
One more step of essay revision is to check the text for any grammatical, spelling, punctuation or stylistic errors. The text should be completely error-free before it is submitted to the student's professor.
There are many other stages of essay revision that not all students are aware of. That is why if you do not want to go through all the hardships associated with essay revision, we recommend you to use our service for assistance. Our company has been providing editing and proofreading services for many years. We have therefore proved to be a highly trustworthy company that has already helped thousands of students with not only essay revision, but also editing of other academic papers like dissertations, term papers, college papers, theses and other kinds of academic writing. Our editors always manage to deliver papers in a timely manner, which ensures topmost level of customer satisfaction.
If you are still unsure which service to use, we recommend you to read the list of benefits provided by our service:
Quick and timely delivery of essays and other academic papers
Qualified help of only professional editors and proofreaders who hold Master's and PhD degrees
Round-the-clock customer support
No plagiarism
Additional opportunities like free revision of essays in case you are dissatisfied with the end result
Top confidentiality
A full refund option
With that said, you can entrust our service with any task you need to be completed. We will be your loyal companion in your academic career! If you liked the essay, don't hesitate to place your first order on edit-it.org.