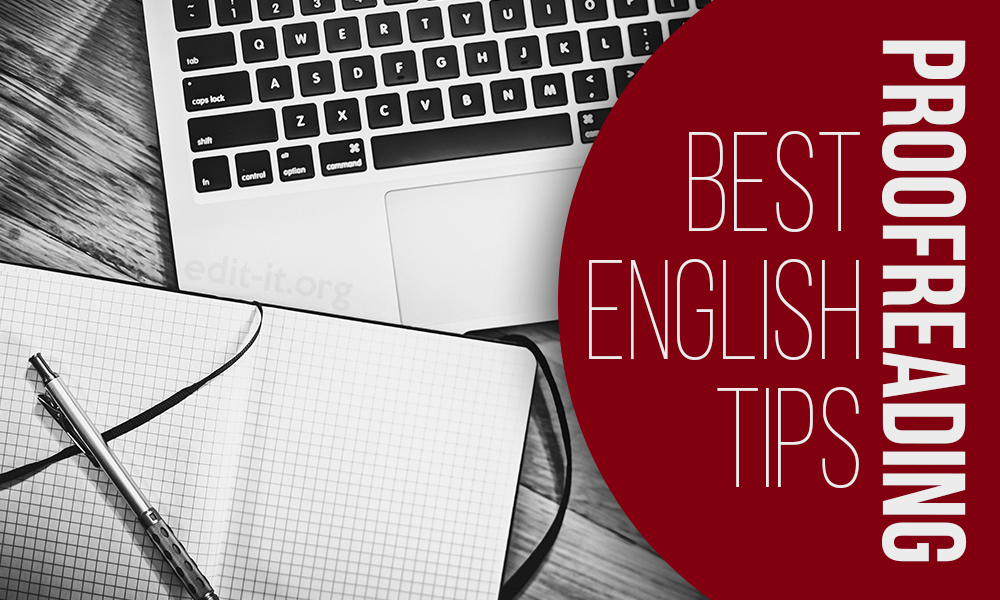 Whatever you are writing, proofreading can never be superfluous. Why? Because even the tiniest spelling or grammatical mistake may distract from the main point. If the audience loses their focus, it means that they are not interested anymore; hence, a text does not fulfill its primary function – informative. Proofreading serves to make sure that information provided is legible and visually consistent. If you are craving for getting A-grade for your essays, research or term papers, you are unlikely to do it without proofreading. You can achieve your goal faster relying on our essay editing service which is the main leader in the proofreading world. If you put trust in nobody about your studies, let us introduce ourselves, and perhaps, you will think better of us.
More in this section:
Our first-rate English proofreader shares his secrets
Our company is regarded as one of the best online proofreading services. Why are we worthy of your confidence?
Proofreading academic papers is an art requiring time and efforts to master. If you are resolved to succeed in it, we are here to push you on. First, you need to keep in mind that English proof reading has a complex nature encompassing many facets. That's why it is not going to be easy, but it is going to be exciting. Second, proofreading is up to those who possess enough patience and diligence. If you are one of this kind, let's get down to business.
Before proofreading take some rest because it is better to have a fresh mind to spot each mistake. You are to re-read your text three times: for spelling, for grammar, and for punctuation. Moreover, try to do on a hard copy since it facilitates visual perception and mitigates eye fatigue.
1. Spelling seems to be easy peasy, but what happens if it is wrong?
Certainly, you can use a spellchecker to examine your work for mistakes, but it should never be your ultimate source of revision. Words can be written correctly but they can also be misplaced at the same time. For this reason, it is expedient for you to have a dictionary at hand and look up all words that seem to you irrelevant. Spelling errors distort the idea of a text. Moreover, they leave an impression you were not assiduous enough when working on the task. It will look ridiculous if "loose" turns into "lose" or "here" appears to be "hear".
2. Mind grammar in time
There is no need to say that it is hardly possible to be flawless in grammar but you can stay watchful to avoid ludicrous mistakes. You will achieve better results if you read out loud. Errors are more conspicuous in such a way. At this stage, your principal task is to check the text for noun-verb agreement, run-on sentences, and relevant verb tenses. There is a high likelihood of mix-ups, such as "their" and "there", not through your fault but due to random misprints. Besides, do not forget to revise the text for compound sentences because sometimes they can be too long to let audience grasp the point at once.
3. There is a place for everything
Punctuation is not the thing to disregard. It serves to make sentences clear and structured. A misplaced mark can lead to a wrong meaning of one sentence, thus distorting the idea of the entire text. Lack of punctuation prevents readers from proper understanding of the information presented. Overuse will cause misinterpretation either. If you are unsure where to put punctuation marks and where to omit, check out these pieces of advice: http://edit-it.org/blog/15-punctuation-marks-you-probably-dont-know
4. Trifles matter
Mastership is observed in details. If you are set to write a truly flawless work, do not neglect small details. First, check out all numbers. It is incredible how one wrong digit can corrupt the whole text. Second, review all titles and headlines. As a rule, you are too focused on the content itself to see such lapses. At last, pay thorough attention to references and ensure you stick to the guideline of a necessary academic style, if required. Here is some more useful information on proofreading, which will boost your work efficiency: http://edit-it.org/blog/editing-or-proofreading-choose-your-service
5. Let others read it
After completing the previous stages, it is desirable for you to allow your friends or family to read your work. You will be surprised if they point out a couple of mistakes. Besides, they can be true judges of whether your text sounds good and unequivocal. If you regard your close people unqualified to help you with your task, we are free to help you. You can trust our team of college essay editors who have rich experience and broad knowledge in the realm of proofreading. They have worked with texts of all academic levels; hence, there are no unmanageable tasks for them. You can provide any guidelines of yours to be followed by our experts.
Proofreading is an essential part of any writing process. It is the main guarantee that your text is adequate for reading. If you are not certain you can manage it on your own, it is our company to ask for a help. You can have a look at the range of services presented on our site. No doubt, there is something useful for you. If you are hazy about the credibility of our service, leave these misgivings! Once you have become our customer, you are allowed to communicate with both our managers and writers at any convenient time. You can participate and control the process of editing or revising your papers, and all your remarks will be considered.
So if you want all your works to be grammatically perfect and pleasant to readers, grasp all possible opportunities and develop your proofreading skills which will never be superfluous, for sure!
More popular topics: