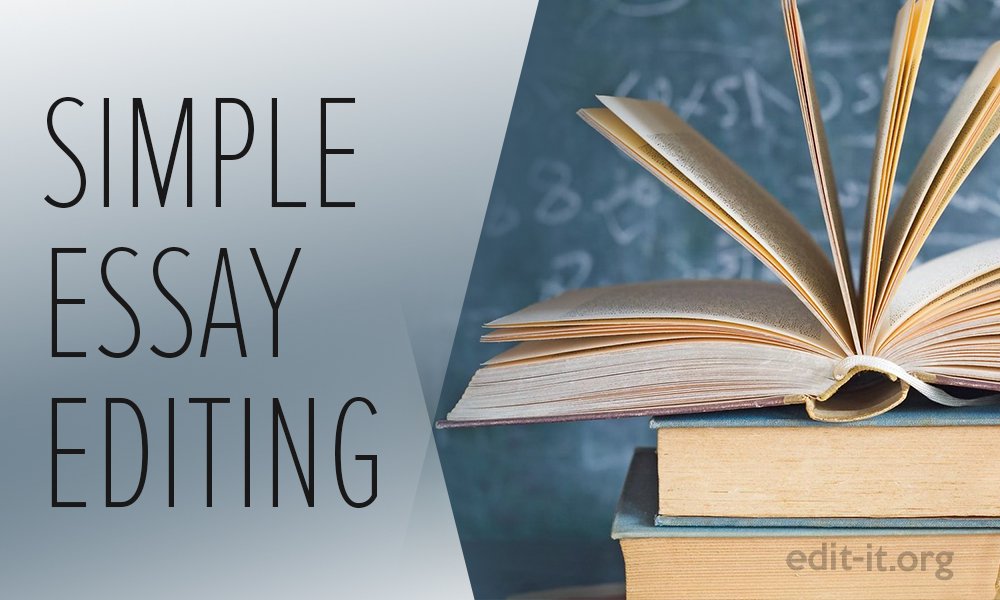 Tiffany Madison once said: "While writing is like a joyful release, editing is a prison where the bars are my former intentions and the abusive warden my own neuroticism." I'll bet my bottom dollar that the similar feelings are familiar to almost every college student, who after the several days or maybe even weeks of writing an essay-like assignment suddenly realized that his joyful writing ride was finally over and the hour had stoke to do the editing stretch. Here let me make a little remark. The students who realize the necessity for thorough and accurate editing or proofreading of their writings usually can be divided into two major categories. In the best case, the consciousness of editing danger comes to the tired student's mind before the author manages to get his finger burnt with a bad feedback, low grade or even the real academic catastrophe of one's paper being cruelly rejected by merciless college supervisor. The orderly ranks of second category are mainly represented by those unlucky guys once bitten, twice shy. Anyway, a burnt child dreads the fire; therefore sooner or later almost every member of academic community faces a chore of editing essays. Here the poor fellows nailed to the wall by ruthless editing requirement often find themselves between the devil and the deep sea, as long as they usually see only two bailout plans to deal with editing crisis, which is a bright illustration of famous saying that 'it's better to be one-eyed than stone-blind'. On the one hand, editing essays through one's own efforts is associated with plenty of headache, while the pressing submission deadline doesn't make the situation any better at all. On the other hand, the Internet is speckling with numerous offers of online essay editing services posted both by freelance editors and editing/proofreading companies; however there is a number of quite natural concerns inherent in working with such service providers, including deadline compliance, plagiarism and confidentiality issues. Well, what would you say if I said that we got an ultimate lifehack that will guide you out of this academic Catch-22, so you won't have to choose the lesser of two evils anymore? I bet this got you guessing, doesn't it? Go on reading and you will find out that editing essays can be as easy as shooting fish in a barrel.
Best Essay Editing Service for Super Students
Before we come straight to the point of this blogpost, let me tender you my congratulations, because if you reading these lines, you've already found an ultimate solution for all your editing problems. Our super reliable college essay editing service is exactly what the doctor ordered to cure your paper of the both minor 'aesthetic defects', such as missing commas or misspelled words, and 'severe illness' of disturbed logical structure, inappropriate formatting and plagiarism issues. Unlike many other editing companies and freelance editors offering essay editing services on the web, Edit-it.org is a well reputable, highly reliable and knowledgeable online editing service that offers numerous iron-cast solid advantages as compared to our competitors.
1. Ultimate Expertise
The excellent professionals always have been the core and the main battle force of our editing company. We employ only the best editing specialists with perfect competence, complete higher education and flawless academic background. All the editors that are part of our expert team not only possess the long years of professional experience and the special skills required for finest-quality proofreading and editing of academic assignments, but also really love and enjoy the job they do. Ok, now let me tell you a secret. When we were gathering up our editing and proofreading 'suicide squad', we picked out the most quarrelsome, scrupulous and faultfinding Grammar Nazis in the world with Master's or PhD degree in English and offered them a job, so they would polish your essays out of grammar, spelling, punctuation and lexical mistakes instead of terrorizing people on the web just for fun. Therefore, all the editors employed by our company are the English native speakers deeply in love with grammar and spelling rules, so you can be perfectly sure that their scalpel-blade-sharp eye won't miss any single mistake in your essay.
2. Grave Responsibility
We know how important or sometimes even life-changing experience the academic assignment success may be for a college student, therefore we consider every order we assume to fulfill as the highest grave responsibility, bigger than the one of the President's Secret Service. Oh, and yes, unlike that infamous guy Clint Hill we won't fail your essay and let it follow the sad fate of John F. Kennedy. Our fast response editing team will find and apprehend all and any insidious trespasser mistakes and blunders standing on the way between you and an excellent feedback by your supervisor. Moreover, we guarantee the strictest observance of the deadlines agreed and often try to submit the edited papers far ahead of the deadline, whenever it is possible, so you don't have to worry about a nerve-racking possibility of that you'll receive your assignment in several hours after final deadline expiration     
3. Top Secret
It goes without saying, that editing and proofreading of academic assignments always implies the work with highly sensitive information, such as author's personal details, research results and other content of paper. In fact, confidentiality issues are an important factor of risk that scares many students away, when it comes to ordering essay editing services, especially those offered by the freelance editors. Our company perfectly knows that the master of information is the master of situation, so we always ensure 100% confidentiality and anonymity for our customers. Our databases for confidential data storage are protected no less reliable than CIA archives and NASA servers, so you can be perfectly sure that all your data will be classified as Top Secret.
As Easy as a Piece of Cake
Ok, probably now, when you already know about our ultimate editing lifehack, you are broiling with impatience to find out how you can order this super service for your essay. Well, it's as easy as a piece of cake. In order to get more info on the service we offer, including the terms and conditions of service provision, as well as specific deadlines and rates for your order, feel free to contact our 24/7 support team via online chat window. You also may send as an e-mail with your order details to the address you may find at the bottom of our home page.